KAYAK FISHING IS FANTASTIC!
Come try this eco-friendly style of fishing and get ready for some excitement!
All skill levels welcome!
Ask about shuttle service to and from Port Aransas.
Kayak Fishing Tours Is Our Specialty!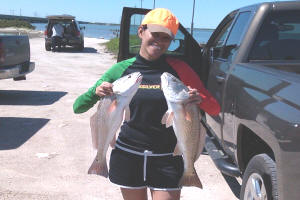 Locations:
Redfish Bay, Lighthouse Lake Trails, Brown & Root Flats, Aransas Bay and Nueces Bay.
Coastal Bend Kayak fishing tours are some of the best in the nation and the Coastal Bend proudly boasts some of the best fishing on the Texas Gulf coast. Trophy-size Redfish, beautiful Speckled Trout, Black Drum and Flounder are our targeted species.
Kayak Fishing Tour Rates:
Skill Level – Beginner to Advanced
Kayak, Paddle and life jackets provided.
1-3 people – $200 per person
4-6 People & Over – $175 per person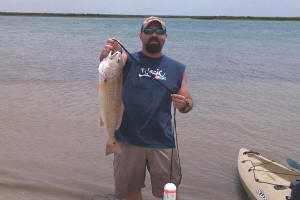 Parent-Child Kayak Fishing: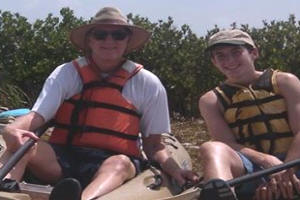 ABOUT YOUR FISHING TOUR:
Coastal Bend Kayak Tours uses safe and stable sit-on-top kayaks.
FLY FISHERMEN WELCOME!
All bait, lures and tackle are provided.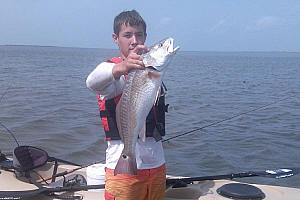 What to Bring:
Camera, daypack, sunglasses, sunscreen, hat for shade, pocketknife, first aid kit, waterproof bag for cell phone, favorite drinks & snacks but no glass containers please. You are welcome to bring your own rods and reels.
CLOSED-TOE SHOES ARE RECOMMENDED BUT NOT REQUIRED.
Kayak, Paddle & Life Vest provided.
A Texas Fishing License and SALTWATER STAMP is Required.
Visit: Texas Fishing License Info.
Kayak PARENT-CHILD Fishing Tour Rates:
Skill Level – Beginner to Advanced
Kayak, Paddle and Life Jackets provided.
$350 per parent/child team
BRING YOUR OWN TACKLE OR USE OURS!
PLAN YOUR NEXT ADVENTURE WITH COASTAL BEND KAYAK!
Women's Saltwater Seminar
Ladies would you like to learn more about the Beautiful Texas Gulf Coast; but not necessarily from your Husband, Fiancée or Significant Other? Coastal Bend Kayak has the seminar for you. Kayaking, Saltwater Fishing, Water Safety and Casting are just a few of the topics covered!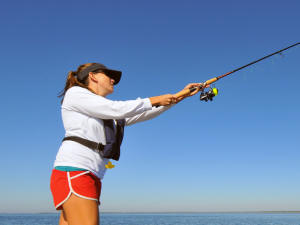 Fee: $350 per person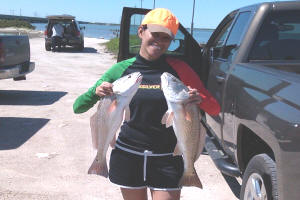 Seminars start Friday with check in from 3-5pm. We then jump into Saltwater 101, which is basic saltwater fishing tactics to make you more successful on the water. The day ends with a evening fishing trip, where we will practice up on our skills.
Saturday will begin at 8am with a Kayaking 101 class and then a beautiful and relaxing trip through the Lighthouse Lakes Trails. These trails are the most pristine Mangrove Trails in the entire State of Texas.
The Trip ends around noon which will be free time till 5 pm.
We will meet at shop at 5 pm for our evening Kayak fishing tour! This tour ends on a small primitive spoil island with campfire and all sorts of fun!
GREAT TESTIMONIALS ARE
THE BEST KIND OF COMPLIMENT!
I highly recommend Coastal Bend Kayak. Hector was extremely knowledgeable, helpful, and informative. Great guy! It was really a fun day for me and my out-of-town guests…can't wait to come back in the fall for more fishing action – caught 2 large reds and 3 trout! Thanks for for everything!!!
Deanna P. Wells
Yesterday my family celebrated a 50th anniversary with the great folks at Coastal Bend Kayak. The experience was awesome!! We saw the sights and we'll see you again soon!
Harley Matthews
Hector is a class act, very informative, very sharp on the kayak experience. Good to find someone that cares nowadays, he made every effort to make sure we had a great time and we were very impressed. Great price, great products, great customer service and overall the best man on the water serving the Coastal Bend area! I will definitely be coming back!
Steven Page